BALLI CEMETERY
Juan Jose Hinojosa (1700-1789) was granted land including this site post-humously in 1790. His great-grandson Antonio Balli-Cavazos (1813-1887) was the first to live on the land, which he named Balli San antonio del Esterito Ranch in 1839. He established the family cemetery. The earliest marked grave is that of Francisca Natividad Balli-Rubalcaba. Antonio Balli-Cavazos was laid to rest with his wife Manuela Rubalcaba in 1887. The last burial was that of Apolonio Balli-Salazar in 1956. There are seventeen graves in the Balli Cemetery. The graveyard is all that remains of a 7,000 acre cattle ranch that dominated this part of the Valley for 120 years. (1989)
---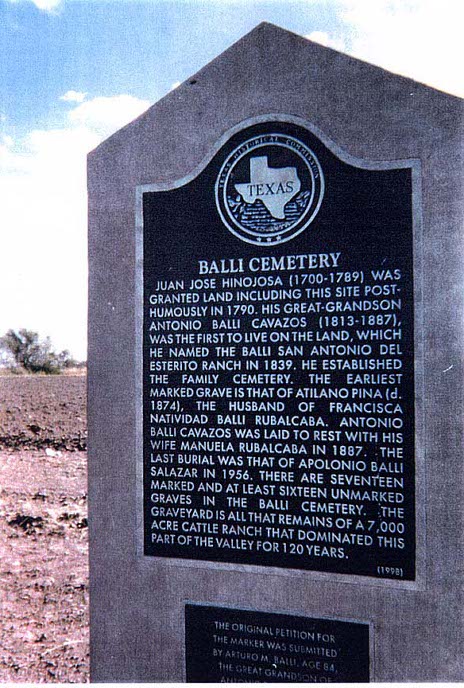 The original petition for the marker was submitted by Arturo M. Balli, born in Donna and lives in California, at the age of 87. He is the great-grandson of Antonio Balli-Cavazos.
---
Drawing Sketch of Cemetery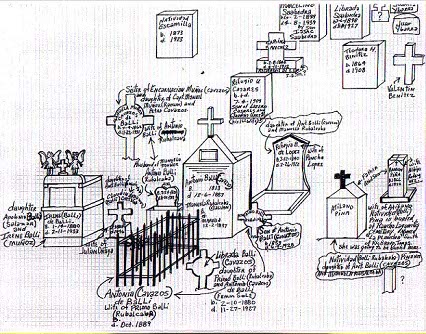 ---
HIDALGO COUNTY, TEXAS, BALLI RANCH CEMETERY SURVEY
LOCATION: South of Donna. From Run, at Intersection with FM 493, go east 3.3 miles. Turn south on dirt road .7 miles crossing levee. Eurestes Renaca is on the east side of road, cemetery on west about 200 feet away in sugar cane field.
PERSPECTIVE: Graves face east. Cemetery is surranded by hurricane fence, with gate facing north.
SURVEYORS: Goldsby Goza, Virginia Hayne, George Gause and Fran Isbell (June 1982)
NOTE: Mr. Ray Balli of Donna very kindly had the cemetery cleared so it could be surveyed. Contains four old bovedas, one of the ranch founders.
---
HISTORY: Jose Antonio Balli-Cavazos (1813-1887) founded the Balli or San Antonio de los Esteros Ranch About 1848, in the Llano Grande Land Grant of his great-grandfather, Juan Jose Hinojosa. The ranch was problbly named after Balli's patron saint. His family name (Variante Valli, Ballin) signifies "dweller in a valley".
His grandparents Matias Cavazos and Manuela Hinojosa had inherited her Share of (3325 Vares or 9283 feet river frontage x 30,000 vargas) of the Llano Grande Land Grant. Their children; Ramon, Lino, and Antonia inherited in turn.
Antonia had married Jose Manuel Balli-Villarreal, and when she died, their son Jose Antonio Balli-Cavazos (1813-1887) acquired 1320.5 varas river front, a portion of which he Inherited from his mother Antonia and the balance acquired by purchase from his brothers and sisters.
San Antonio de los Esteros (or Esteritos) Ranch consisted of 7,000 acres or two square leages and extended from the Rio Grande, north 15 miles. It contained two bodies of water beside the the river frontage, enough to pasture large stocks of cattle. The Ballis also raised corn, beans and squash for domestic use in the fields close to the Rio Grande.
According to Antonio's son, Manuel, his family owned and used the land since 1839. For a few years around 1838, they fled across the Rio Grande because of Indian raids.
Antonio Balli married Manuela Rubalcaba in 1837, and they had eight children: Manuel (born in Mexico 1838, died after 1903), Refugia, Antonio (1851-1913), Francisca Natividad, Maria Inez, Victoria, and Librada.
When Hidalgo County was founded in 1852, Antonio Balli registered the first cattle brand at the county seat of Edinburg (Hidalgo County) on November, designed as (JAV) connected with a flat circle over the A.
When Don Antonio Balli died in 1887 (his widow died in 1897), the property was verbally partitioned amony his seven children. Each receiving 188.5 vargas river frontage. By 1913, most of the land was sold to the American Rio Grande Land & Irrigation Company of Merceden for land Development.
The first Balli in America, was Pedro Balli (1545-1600), a printer, of Salamanoam, Spain. He reached Mexico in 1569, where he married Catalina del Valle and had three sons. Balli was named fourth printer of the New World by royal decree of King Phillip II in 1574. His printing house was located on the corner of Honeda Street and Lic. Verdad on the plaza in Mexico City. He produced over 60 books, including some in native language and others for the University of Mexico.
Descendants of Pedro Balli II moved to Nuevo Leon. By 1750, Nicolas Balli (1701) and Josefa Guerra de Balli were living in Sabinas Hidalgo, about 70 miles north of present Monterrey. They had five (5) sons, Jose Manuel, Bartolomeo, Juan Jose, Juan Antonio, and Jose Maria Balli. Durning the colonization of Nuevo Santander by Jose de Escandon in 1749, Jose Maria Balli and Juan Antonio Balli settled in Reynosa and became rimitive settlers.
At the time of the General Visit to assign lands to settlers in 1767, Jose Maria Balli was one of the surveyors, and received porcion 72. His brother Juan Antonio Balli received porcion 13.
In 1800, because of continous flooding of the original site, the villa of Reynosa moved downstream 11 miles onto land donated by the Juan Jose Antonio Balli Family. Manuel Balli is probly descendant from one of these two Reynosa settlers.
At San Antonio del Estero Ranch, a one-acre plot was set aside for a family cemetery. First family member buried in the Balli Cemetery was Atilano Pina in 1874, the husband of Natividad Balli- Rubalcaba. Ranch founder, Antonio Balli and his Wife, Manuela Rubalcaba are also buried in the ranch cemetery, according to Mr. Arturo Balli of Donna. Last Balli to be buried in the ranch cemetary was Apolonio Balli-Salazar (1869-1956).
SOURCE: Mr. Arturo Balli of Donna, Texas and Fresno, Califorina. ARGL&I Chain of Title, Llano Grande Grand, Share 2, 1913, Garcia, Clotilde. Padre Nicolas Balli and Padre Island.
---
HISTORY
ROW A
A01. ANTONIO BALLI-CAVAZOS
Nacio 1813 Fallecio Dic 6/??/1887
a la edad de 74 anos.
Sue Hijos dedican ente recuerdo Q.E.P.D.
Note: boveda
Lived part of his life in Reynosa.
Married Manuela Rubalcaba in 1837.
A02. JOSE MANUEL BALLI-VILLARREAL
Antonio was at the ranch of February 24, 1851
Baptized in Reynosa March 21, 1851
and died on August 25, 1913
Note: Grandmother buried temporally on the west side - new white cross
daughter of Capitan Munoz.
Source: Alessandro Perez Balli, Weslaco, Texas
A03. Sra. CLAUDINA BALLI DE ORTEGA
Nacio September 30, 1881 Fallecio Dic 1946
Su esposa Julian Ortega dedica esta recuerdo a su memoria
D. E. P.
A04. and A05. (Fenced enclosure with A, C, de Balli on the enclosing two (2) spaces)
A06. (Cement Cross probally two (2) bodies, painted letters illegible)
Li.............. Balli Fallecio
Nacio.............
ROW B
Double
B01. IRENE BALLI DE BALLI
Nacio el dia 14 de Enero 1880 Murio el dia
11 de Febrero 1953
Recuerdo de su esposo e hijos
(Largge Boveda with two large Angels and on lower, a face of Cristo)
brick sturcoed over - Irene B. de Balli headstone
B02. (Unmarked grave - outlined by bricks).
B03. (Concrete Cross; markings on front is (Illegible black paint))
Pablo ? Balli............ Nacio............. 13(?)
Fallecio..........1924(?)
B04. (Small Boveda with wooden Cross), no top - no markings
no body (?) a Balli from style of Boveda
B05. RAMON C. PINA
Nacio el dia de 4 de Octobre 1866
Fallecio el dia 26 de Julio 1922
Su esposa Albina Rodriguez e (Sic)
hijos ason (sic) ente recuredo
Pine broken cross with iron crucifix
B06. REFUGIO U. CASARES
Nacio y Fallecio en Julio 4, 1903
sus padres y hermanos dedica E.P.D.
B07. Slab over Grave
Rene.......... Casares? 1855, (faces west)
1880 Nacio 1-188--Sus Deudos ? Dedican
at base R.U.C.
Note: Marry sunben probably unmarked grave there out
Row C
C01. REFUGIO B. DE LOPEZ
March 12, 1840 February 20, 1927
Madre duerrne el sueno serno mientras
tus hijos eloran tu eteno aurencia
Lopez with urn at bottom
(Double enclosure marble/cement)
C02. (Unmarked grave).
ROW D
D01. (Base of a cement marker?)
D02. SABINA SANCHEZ
Nacio Feb 8, 1840 Fallecio March 12, 1912
Recuerdo de S.S.M. a su memoria
D03. (Cement Cross fallen - no markings)
D04. TEODORA H. DE BENITEZ
Aqui yacon los resto de Teodora H. De Benitez
Nacio el dia 7 de Abril 1854 y Fallecio
el 31 de Enero de 1908.
Sus hijos le consagran este homenaje
por el des conso de su alma. Amen
D05. (Wooden Cross Illegible)
ROW E
Note: Fallen illegible marker? several large fence post and possible original fence.
E01. (Broken off Marker).
E02. JUAN YBARRA
Ano de 1898 Nacio en Marzo 6
Recuerdo de sus hijos
ROW F
F01. (Small wooden Cross - no markings).
F02. (Remains of a wooden cross painted blue).
F03. MARCELINO SAABEDRA
Nacio Junio 2, 1899 Fallecio Marzo 8, 1939
Un recuerdo de su hijo Isaac Saabedra (sic)
F04. LIBRADA SAABEDRA
Ano de 1898 Nacio en Marzo 6
Fallecio el 1927 Agosto 10
Un recuerdo de su esposa S.L.
F05. JUANITA YBARRA
Nacio Julio 17, 1906 Fallecio Abril 15, 1942
Recuerdo de sus hijos
ROW G
G01. (Cement Cross painted white/silver - no markings).
ROW H
Vacant
---