The Kenedy Memorial Foundation, Babcock & Brown Ltd. and PPM Energy have launched an $800 million wind farm project on La Barreta that's currently under construction. The total investment is expected to reach $1 billion. We believe that no development of the land should be made until all our time before the Court on cause 1261 has been exhausted. That will not be until September 2, 2009, until then the property should remain, "hands off" and that goes for the mud flats as well. The Family is working on a do-able come-back of cause 1261.
This is a picture at one of the gates to our Barreta land: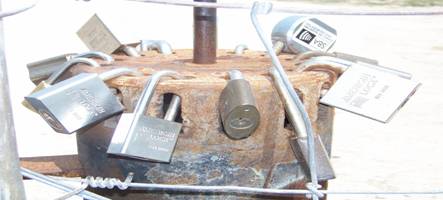 My brother Nick, who took this picture, said "Looks like the guy with the key(s) would have an easier job getting in by just cutting the fence." - I agree.
Let's be mindful of the do's and don't actions of this protest. We will not be cutting down any fences. Remember this is a peaceful protest. Bring your weatherproof banners with slogans like:
The Jury not a Catholic Judge should make the decision as to the ownership of the land.
We have plenty of evidence to prove our case before a jury of our peers.
Your leases have expired; stop renting our land to others!
Wind Farm Project partners; get your facts straight because you might lose in the end.
God is with us and on our side.
We will fight this with all legal means at our disposal. Rain or shine the rally is set for July 6, 2008, at 2:00 PM. Those in poor health should not attend because the nature of the terrain and heat factor.
There is a high probability of US and Mexican media coverage because some of us might get peaceably arrested. Weapons of any kind or alcoholic beverages will not be allowed.
Bring your cameras and record history in the making. We will assemble at the rest area on US-77; it is about 6 miles south of Sarita. From there we will caravan to the location of the rally. Family and friends are asked to bring their own provisions, plenty of water, sun umbrellas and lawn chairs.
Please acclimate yourself as to the type of weather for that day. Children and pets will need to be closely monitored and supervised because of the hostile surroundings. Better yet, leave them with Abuela that is your choice.
BFO shall not be held liable for any accidents or injuries during the course of this event; you are welcomed to attend if you agree with all the terms within. "Your presence counts."

Respectfully yours,
Fred B. Ballí

Below you will find a map to the location, marked by the letter A: